The Brownstone Special Service in NYC
Whether you're looking for a stone specialist, a marble specialist, or a soapstone specialist — Brownstone Specialist can help you find what you need.
Brownstone Specialist provides quality service to homeowners in Brooklyn, New York. We have expertise in the following areas: property maintenance, view restoration, lead paint replacement windows, and all sources of asbestos removal.
Brownstone renovations have become increasingly popular. Brownstones were primarily built in the nineteenth and twentieth centuries, predominantly in New York City. Fine examples are located throughout the city: Central Park West, Brooklyn Heights, Carroll Gardens, Cobble Hill, Fort Greene, and parts of Williamsburg.
The Brownstone Specialist in NYC
You are searching for a Brownstone Specialist in Brooklyn, NY, and wondering why your search isn't pulling up any results… Am I right?
At Brownstone Specialist, we understand that every client is unique. We're committed to ensuring that you enjoy an open line of communication with your home specialist so that you can be involved in the entire renovation process. You'll never be left wondering 'What if?'—our team is available to offer guidance every step of the way.
Have you ever wanted your house to have more curb appeal? If so, do you know how much it costs? Sometimes people end up ripping out all the existing stones off the front of their houses. They think they can save some money by doing that. And most of the time, they end up spending a lot more money in the long run because as you start to make these large repairs. Brief Summary of your company (100 to 150-word count): I am a specialist in the Brownstone market. My background in real estate, coupled with my knowledge of the Brownstone market, puts me at an advantage when representing a buyer or seller in this type of transaction. I have a large network of contractors that I work with including those who specialize in Brownstone renovation projects.
Brownstone Specialist is a locally owned and operated company that specialize in home renovations since 2010. All their services are meticulously performed. Their team of experts can handle any home renovation project.
The first thing you need to know is that we're a family-owned business here at Brownstone Specialist. We pride ourselves on being able to handle complex situations and create affordable, sustainable solutions for our clients.
The Brownstone Specialist in NYC
A lot has been said about brownstone, with this timeless beauty recently being named the first nationally protected architecture. With a style designed to blend in with an urban environment, this type of architecture was rarely spared from the wrecking ball as fewer and fewer American neighborhoods remained intact during the second half of the 20th century. Brownstone homes are gaining in popularity due to their inherent aesthetic values and renewed interest by homeowners looking for unique properties that stand out from the rest.
When was the last time you had your brownstone serviced? This might be an odd question to ask, but it's actually quite applicable. Essentially, if you don't service things regularly, there is a good chance that you will suffer expensive problems down the road. That's why I want to talk about regular service...
When you buy a house or sell your house, it is an important and stressful time. It is totally understandable that you might be reluctant to try something new. For example, you might worry about working with someone who isn't an expert in the field, but sometimes it's worth giving up a little control for the sake of convenience. If you have no experience with this, then it might take an expert to convince you of the benefits that Brownstone Specialist has to offer.
Brownstone Restoration in NYC
A brownstone restoration is a type of residential building. It's distinguished by its tiered appearance, with each story being smaller than the one below it. The name comes from the stone that was used in their construction, which gave them a darker color than other buildings made with bricks.
Brownstone, also called sandstone, is a building material composed of brownish-gray compacted sand. It is often used as exterior building material due to its durability and natural charm.
Brownstone restoration was developed in the early 19th century by combining two different types of stone: granite and limestone. The use of brownstone began in New York City before spreading to other parts of the country.
The Brownstone is a type of residential building that was popular in the United States, Canada, and Western Europe during the 19th century. It was a form of home construction that used sandstone or limestone for its external walls. Brownstones were built in the city center and later moved to the suburbs when people began moving out of cities into more rural areas.
Although brownstone is no longer as popular as it was back then, it still has an elegant, classy feel that makes it popular with those who want to live in a historic neighborhood or who just like the look of the stone.
Brownstones are generally distinguished by their stone façades and their characteristic stoops (porches). Many people think that a brownstone should have at least three stories, but this isn't always true.
Brownstones were a type of row house that was common in the late 1800s and early 1900s. The name comes from the brick used to build them, which was a very dark brown color.
Brownstones were often built to be rental properties, so they were somewhat smaller than other types of homes of the time. This made it easier for people to find affordable housing near downtown areas.
NYC Brownstone
The brownstone is a New York City icon. It's a style of architecture that has been around since the mid-19th century when it was popularized by the wealthy who wanted to live in high-end neighborhoods like Brooklyn Heights and Park Slope.
The brownstone was originally made from sandstone or brick—hence the name—and it became popular because of its durability and ability to keep out heat and cold.
Today, brownstones are still built in New York City; they're one of the most popular home styles in Manhattan because they're affordable to buy and maintain.
If you're looking for an apartment in New York, there are plenty of options for brownstones to rent or buy!
The brownstone is a classic New York City building style that's been around since the 1830s. It's usually made up of five stories, with each floor being just under 1,000 square feet.
The typical brownstone has two front doors on the street level—one for each apartment—and a back door leading to a communal area like a garden or an interior courtyard. The first floor typically contains shops or storefronts, while the second through fourth floors house apartments. The fifth floor is usually reserved for storage or other purposes.
The best NYC Brownstone Services
Brownstones are most commonly constructed in Brooklyn and Manhattan, but can also be found in Queens and parts of The Bronx.
The brownstone is a classic New York City home. It's been around since the 19th century, and it has always been an important part of the city's identity.
Brownstones are made up of three stories: an entrance hall, an upper floor, and a basement. The first floor is often used as a living room or dining room, while the second floor is usually one big room that serves as both a kitchen and bedroom. The third floor usually has two bedrooms and a bathroom.
There are many advantages to living in a brownstone: First, there's tons of space! Second, you can buy one for a reasonable price; they're often cheaper than apartments in other neighborhoods like Manhattan or Brooklyn Heights. Finally, you'll be able to enjoy the peacefulness of life in this quieter area without having to worry about traffic jams or crowds at all hours of the day!
The best NYC Brownstone Services
If you're looking for something different from what you've seen before—something that feels more like home—then check out these beautiful brownstones today!
New York City is a place of many different cultures and neighborhoods. This is why it's so important to have a home that represents who you are as a person and the values that you hold dear. Whether you're looking for a brownstone in Brooklyn or Manhattan, we can help you find the perfect home.
We're a small, family-owned business that specializes in creating high-quality brownstones from scratch.
We're passionate about building the best houses possible, and we want to make sure that our customers are as happy with their homes as we are with ours. That's why we work hard to make sure every detail is perfect—from the color of the walls to the quality of the landscaping out back.
We're proud of our work and know you will be too!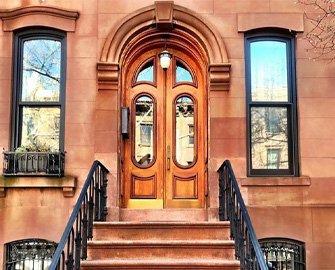 Brownstone Restoration
Brownstone restoration is a process that involves cleaning and repairing the original appearance of the building. This can include removing paint and other coatings, repairing damage to the stone itself, and replacing any missing or damaged pieces. The goal is to return the home to its original glory while making it safe for people to live in.
Brownstone restoration is a process that involves bringing a brownstone back to its original state.
Brownstones are a type of row house that was first built in New York City in the mid-1800s and have since become popular as starter homes for young professionals. They're known for their intricate brickwork and detailed facades, but over time, these features can become damaged or worn. Brownstone restoration is necessary to preserve these unique features and restore your home's original beauty.
Brownstone restoration can include:
- Cleaning the bricks
- Repairing cracks in the foundation
- Replacing broken windows
- Replacing missing tiles
Brownstone restoration is a process that can help you restore your brownstones to their former glory. There are many different ways to go about this, but one of the most common and effective ways is to hire a professional company to take care of it.
Brownstone restoration is a process that involves bringing your brownstone back to its original state. A brownstone is a type of stone-built residential building constructed from the late 19th century to the early 20th century in the United States.
Brownstones are typically found in New York City, Philadelphia, and Boston. In these areas, they have become symbolic of urban development before the automobile became popular and suburbanization became widespread.
Brownstones typically feature architectural details such as:
Arched doorways (or doors with transoms)
Bay windows
-Basements with exposed brickwork
-Balconies that extend past the first floor
Do you have a brownstone and want to restore it?
There are many reasons to restore a brownstone, including its historical significance, the fact that there are so few of them left in New York City, and the fact that they're just beautiful.
But let's be honest—the main reason is that you love the idea of having an original, historic home. You love the thought of walking through your front door into a living room with gorgeous woodwork and rich colors. Your heart races at the thought of having a fireplace in your bedroom. And when you imagine yourself sitting on your own porch with a cup of coffee in hand, you can't help but smile.
Brownstone restoration is not easy—it takes time, money, and hard work—but if you're passionate about restoring your brownstone back to its original glory, then it will be worth every minute spent on painting walls or sanding floors.
Brownstone Repair
Brownstone repair can be tricky.
The stone is beautiful, but it's also prone to cracking and flaking.
That's why we're here: to help you fix your brownstones!
Are you looking for a home with the historic charm of a brownstone? Well, look no further! We can help you with your brownstone repairs.
Brownstone homes are beautiful, but they come with their own unique set of challenges. The materials used to make them are harder to work with than modern construction, and they need to be maintained regularly.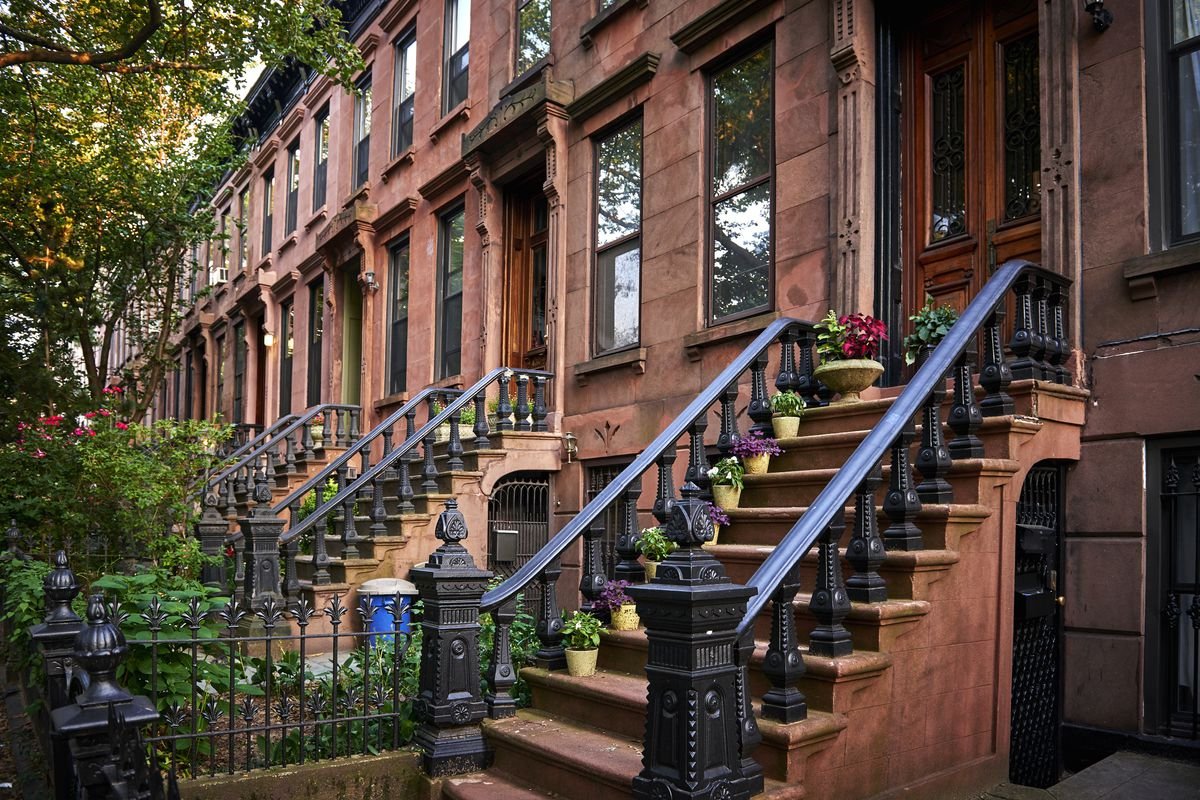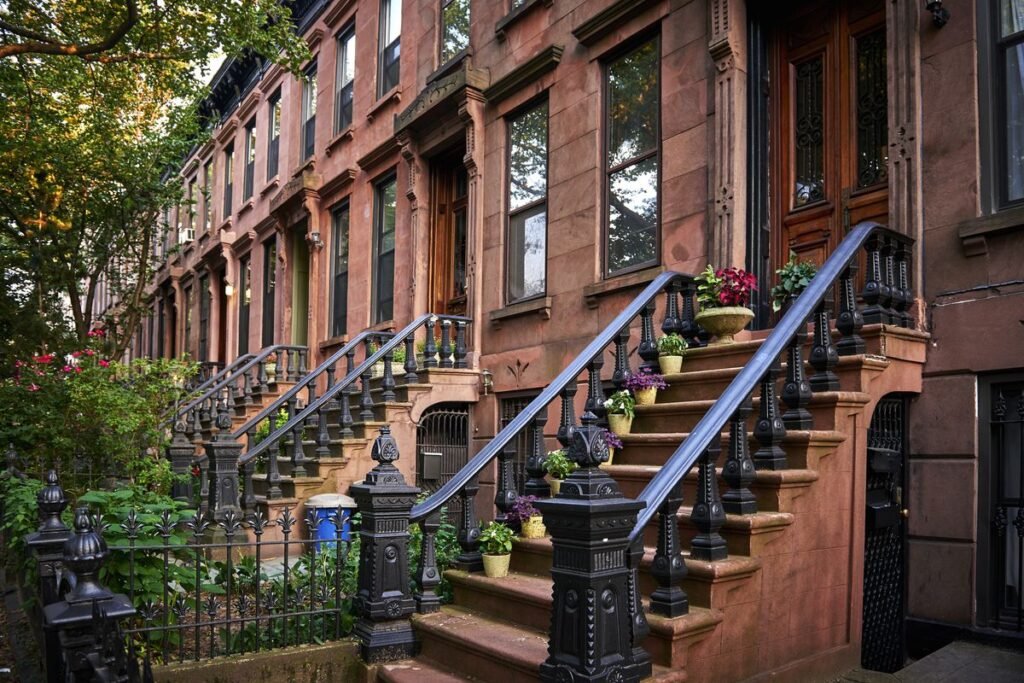 If you're looking for a contractor who knows how to handle all this, we're here for you. We know how to repair and maintain your brownstone home so that it can be as beautiful and functional as possible.
The brownstone repair process is a little different from other types of repairs, but we can help you every step of the way.
If you're unfamiliar with the process, here's what you need to know:
First, we'll need to remove the old mortar and inspect the foundation and support beams to ensure they're in good condition. Once that's done, we'll replace the defective mortar with new mortar, then apply a sealant to keep it from cracking again.
If you have any questions about this process or anything else related to brownstone repair, please don't hesitate to ask!
The best Brownstone Repair in NYC
If you're an owner of a brownstone, you know that it's an investment. You also know that you need to take care of it in order to keep your investment safe and sound.
That's where we come in. We specialize in brownstone repair, so we've got the tools and the know-how to help you get the job done right. We'll come out and assess your situation and make sure that we understand what needs to be done. Then we'll provide a quote for the work, which will include all labor and materials costs as well as any additional charges for things like permits or extra work that may be required by city inspectors.
We don't just have experience with brickwork—we also have experience with foundations, windows and doors, roofing, siding, mold remediation, chimney repair—you name it! If there's something wrong with your brownstone, we can probably fix it.
So if you want someone who knows how to take care of their investments while taking care of yours (and everyone else's!) give us a call today!
Brownstone repair is something that you should think about if you own a brownstone. While they are beautiful and historic, they can also be very expensive to maintain. If you are looking for ways to lower the costs of maintaining your brownstone, then it would be a good idea to look into some different options.
One way that you can save money on your brownstone repairs is by looking into companies that specialize in brownstone repair. These companies will have experience working with these types of buildings and will be able to provide you with high-quality work at an affordable price.
Another way that you can save money on your brownstone repairs is by doing them yourself or finding someone who can do them for a reasonable price. You may have heard that doing your own repairs will cost more in the long run, but this isn't always true. You can find many guides online that show people how to do their own repairs without having any expertise in construction or carpentry; therefore, saving them both time and money!
If you have a brownstone, you should call Upholstery Plus.
Brownstone Specialist works hard not only to match clients with the property of their dreams but also to find them the right home in their budget. Their passion for their craft shines through in everything they do, from the initial consultation all the way through closing.
To start your brownstone renovations, you want an experienced team you can trust. One that has experience working with old buildings full of unique materials that require special techniques to restore and preserve.
Brownstone Repair is Near me
We have been the best at what we do since 1995, and what we do is bring affordable chic and classic brownstone architecture to our clients. You can trust our experience to make your brownstone projects a success. We specialize in hardscaping (patios, walkways, driveways, etc.), garden landscaping, outdoor kitchens, outdoor fireplaces, and much more. Contact us today - we look forward to talking with you!
The most abandoned type of housing is the brownstone. There are currently an estimated 13 million brownstones in America, and in New York City alone about 90% of all houses are brownstones. This used to be the starter home for the middle class, but the changing standards of what constitutes a middle-class lifestyle greatly reduced its desirability. However, with a simple retrofit, it becomes a relatively comfortable house that meets all current building codes.
This is an excellent idea for a business. You have experience and know how to get the job done. It's not difficult work, but it is physically straining and needs to be done carefully. The profit potential with this business is amazing somewhat limited by local demand, which if you like you could try to market. The best part about this business is you can start small as an LLC and grow with it when you have a few happy customers. I'm not sure who out there is really looking for a paid job as a brownstone specialist, but if you're reading this page, you'll know what it's about now!
So if you are thinking about selling your brownstone, or you have already hired a Brownstone Specialist and need more information on your rights as a seller, we hope that we have been able to shed some light on what is happening in the world of brownstone sales. It will be interesting to see how the market for these buildings shakes out in the next decade.
Did you know that each brownstone is uniquely different, with its own character and features? At Brownstone Specialists we understand all of the important details that make each brownstone unique. From the inherent design quality to the foundation and history of the building, we take pride in our work and have a genuine interest in every project we work on.
Even if you're not sure you'll ever sell your brownstone, it's a helpful idea to know just what you have. The more you know about these unique properties, the better you can maintain one and keep it in top shape. As such, we hope that this guide can help you maintain your brownstone properly and handle any issues that arise. And as always, if you have any thoughts or questions, please don't hesitate to share them with us …
We feel that we have a lot to offer the home buyer interested in brownstones. Our goal is to guide people through the awakening process as they discover this new idea of urban living for themselves. We will be presenting properties for you to view, and if we are familiar with the building, we will give you personal commentary on the building before you arrive. If you have a particular preference as to where you would like to reside (you may know an area due to friends who live there), please feel free to tell us and we will do our best to arrange a viewing with your specifications in mind. Allow us to be your eyes and ears as you explore this exciting option that New York City has been enjoying for over 150 years.
One of the most important parts of any renovation or construction project is communicating with all parties involved. This includes staying on schedule, understanding any hiccups with permits or inspections, and literally keeping everyone on the same page. That is where I come in. Having been a general contractor for 15 years and built over 350 homes, I have developed strong relationships with my contractors, sub-contractors, and vendors. I understand every step of my client's process and will be able to communicate effectively so each party knows exactly what needs to happen next. My goal is to ensure that things go as smoothly as possible for my clients while offering them the highest level of service.
Table of Contents